Activity Guide: Fall in Hocking Hills
Autumn in Hocking Hills is a season where guests flock from all over the state to see the beauty of transformation: the leaves, the trees, the cool weather. In our experience, many guests make their way to the area to capture photographs and enjoy the hiking trails. One of the benefits to visiting in the fall is that the trails tend to be less trafficked than they are in the summer months.
As we make the most out of this time of year, there is a lot to consider when planning a trip! Let us take the guesswork out. Join us this week on Quoth the Raven as we share our Fall Activity Guide. Learn more about the Castle and some events at our favorite local businesses!
Ravenwood Castle
We are anticipating a busy fall season and now is your chance to reserve your stay at Ravenwood. The Castle is nestled in the heart of the Hocking Hills region and there is nothing quite like it as the leaves start to change colors. Drink Castle Butterbeers and game in the Great Hall or lace up your hiking boots and take on our trails. If you're feeling adventurous, we have four on-site scavenger hunts designed for guests to explore the nooks and crannies of the Castle. Our board game library has 100+ games for guests to enjoy during their stay. We pride ourselves on being an unplugged destination for friends, families, and couples alike to reconnect. We certainly hope we get to see you this fall for some much needed R&R!
Jack Pine Studio

Glass Pumpkin Festival, September 24th-26th
This year marks the 2nd annual Glass Pumpkin Festival at Jack Pine Studio. Jack Pine is located about 35 minutes from the Castle. This outdoor art show is a weekend featuring local artists, food vendors, and is great for guests of all ages. There will be hundreds of glass pumpkins available to purchase and you don't want to miss a chance at snagging their collectible 2021 Pumpkin of The Year.  This event is perfect if you're looking to score an early Christmas or birthday gift. Even if you can't make it to the festival this year, Jack Pine is a must visit for our art-loving guests.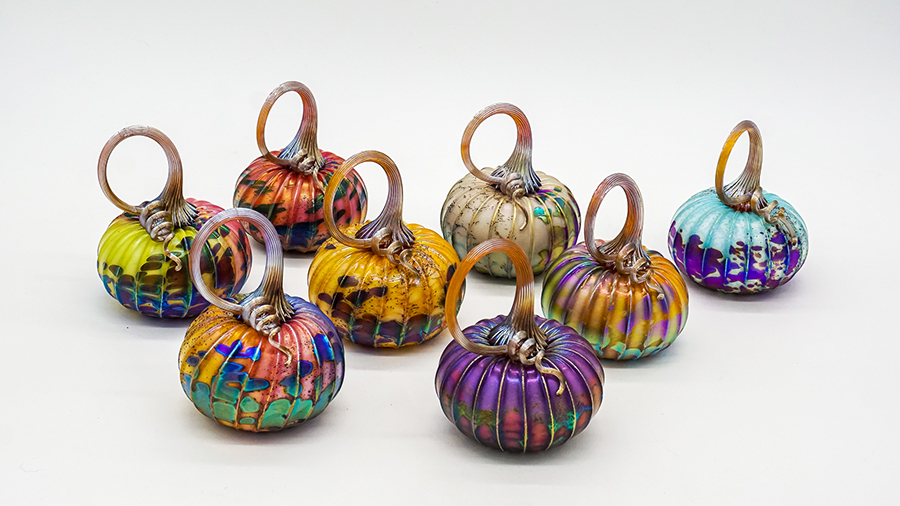 Br3w3ry (Brewery 33)
3rd Annual OktoBEERfest, October 2nd
Head over to Br3w3ry to enjoy some specialty beers and live music at OktoBEERfest.  While relaxing, grab a bite from Schmidt's Sausage Truck. There will also be kids activities available which makes this an event for everyone!
Circleville Pumpkin Show
Circleville Pumpkin Show, October 20th-23rd
The official schedule for the Circleville Pumpkin Show will be released in October of this year, but mark your calendars now! This event is free and dates all the way back to 1903. A weekend full of giant pumpkins, parades, and plenty of treats, this is an event you don't want to miss. Circleville is under an hour drive from the Castle making it an easy day trip. Upwards of 23,000 pumpkin pies are sold each event weekend – let us know what you end up taking home.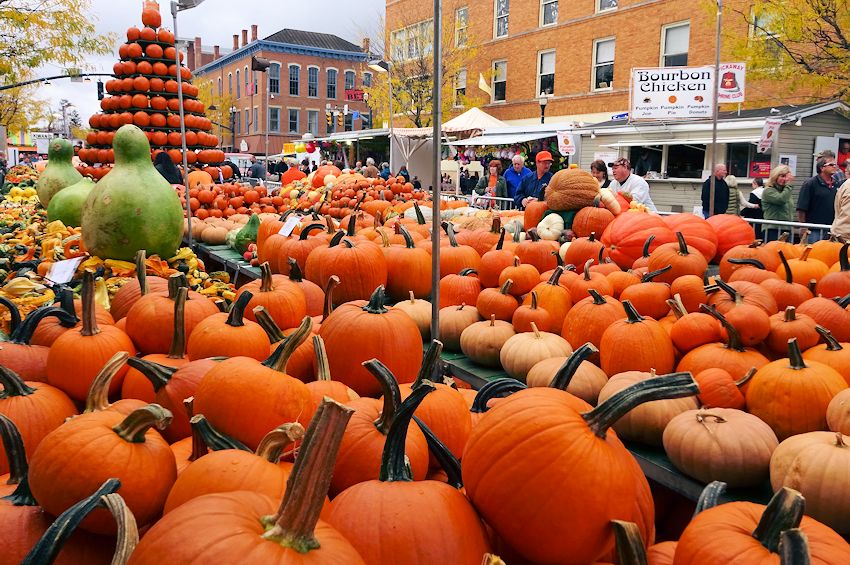 Fall Foliage Tours
Enjoying the Hocking Hills region by foot is a marvelous experience, but if you're looking for something less strenuous, a car ride can be just as beautiful. Click here to see some fall foliage drives in the area! There are four routes all varying in distance. Grab lunch to go at a local restaurant or from our Pub and enjoy the scenery!
Muddy Boots Farm
Trick or Treat with the Animals, October 9th
Located about 35 minutes from the Castle is Muddy Boots Farm! Carve out some time in your schedule to trick or treat with the animals from 1-2 PM on October 9th. Costumes are encouraged for guests of all ages! Stay a while and enjoy their fish fry afterwards to make a day of it.
The 171st Fairfield County Fair
Fairfield County Fair, October 10th-16th
From bull riding to demolition derbies, from live music to fair food, this event checks all the boxes. To see a full schedule of events for 2021, visit their website.
Fairfield County Infirmary Ghost Hunt
Fairfield County Infirmary Ghost Hunt, October 22nd, October 23rd, October 29th, October 30th, November 12th, November 13th
The haunted Fairfield County Infirmary is a haven for the paranormal and they tout that their overnight Ghost Hunt at this location will definitely test your nerve! For our thrill-seeking visitors, this may be more up your alley. The ticket for the ghost hunt includes structured vigils, exclusive overnight access to the most haunted areas, use of equipment like EMF meters, as well as private time to explore on your own. Tickets are required and we would love to hear if any of our guests undertake this spooky overnight stay!
---