Winter Activity Guide
Every season at Ravenwood Castle has its own unique charm and winter is no exception. With the colder weather comes opportunity – the opportunity to experience the Hocking Hills region in a brand new way! This week on Quoth the Raven we are exploring the best of the best. Keep reading to learn about our favorite parts and places to go during your winter stay with us.
Hocking Hills Winery
Family owned and operated, Hocking Hills Winery is a must visit if you're a wine lover. Located only 25 minutes from Ravenwood, it makes for the perfect stop after you spend a day hiking before heading back to the Castle. Most recently, Hocking Hills Winery has taken home six medals for their wine at the annual Finger Lakes International Wine & Spirits Competition! Check out their wine flights, weekly specials, and their wide variety of charcuterie boards. The winery is open 6 days a week (closed on Tuesdays) and features live music on the weekends.
Sauna Pods
The Sauna Pods of Hocking Hills are a great way to warm up after a winter hike! The pods are barrel-shaped, cedar saunas that feature a floor-to-ceiling fish-eye window. Once inside you can look out and nothing compares to the Hocking Hills landscape when there's snow on the ground! Pods are available in 1 or 2-hour sessions and if you want to come and go as you please, don't miss their full day rental option. After your session come back to the Castle for an Excaliburger and finish your day off with some board games!
Antique Shopping
Located directly off 33, and only 30 minutes from the Castle, you will find a plaza full of shops to spend the afternoon treasure hunting. Conveniently enough the Hocking Hills Antique Mall, Hollidays Amish Furniture, Spring Street Antique Mall and more are all within walking distance from one another. After shopping, wander over to OASIS Coffee Shop and grab a buckeye brownie or latte. If you're feeling hungry, Chelle's 33 Diner is only steps away. Make sure to check store hours ahead of time if there are any specific spots you want to visit. This is a great location for a winter visit since everything is close together!
John Glenn Astronomy Park
Bundle up and head out to the John Glenn Astronomy Park. The Hocking Hills region is perfect for stargazing with such little light pollution and open skies. Check out a meteor shower calendar and see if there is any magic happening during your stay. Visits to the park are free and there is ample parking available. Whether you're bringing along a telescope, pair of binoculars, or just your own two eyes, you're sure to make memories at John Glenn Astronomy Park!
Jack Pine Studio
We have featured Jack Pine on Quoth the Raven in a previous activity spotlight. Add some heat to your travel itinerary! The studio features live glassblowing demos every day and is located about 40 minutes from the Castle.  This makes for a great day trip for families, friends, and couples alike – experience watching molten glass turn into beautiful works of art before your very eyes! Make sure to stop by the office before you check out if you pick something up at their gift shop, we'd love to see what you chose.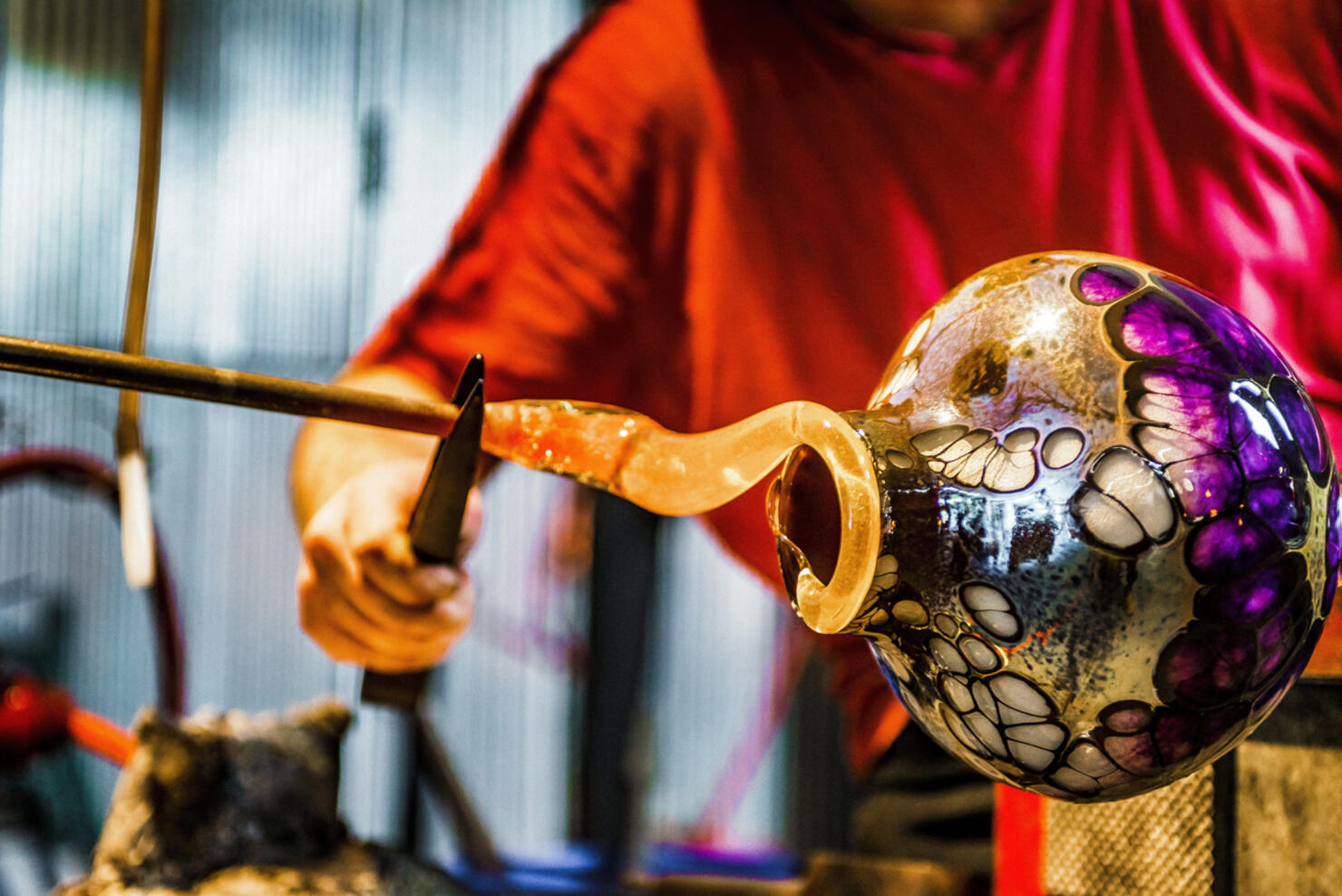 Homegrown on Main – Logan
Logan is only a 25-minute drive from the Castle and that is where you will find Homegrown on Main. This store is home to 53 artists and craftspeople who create unique works of art from their homes and studios around the Hocking Hills region. On December 4th from 11 AM – 5 PM they are having an open house featuring live music and artist demonstrations – and there will be plenty of hot cocoa and Christmas cookies to go around! Start a new tradition this year and pick up some last-minute Christmas gifts at Homegrown on Main.
Treehouse Treats and Treasures – Logan
On December 12th drive out to Logan and check out Treehouse Treats and Treasures to see Santa and feed his "reindeer" at Ruby's Petting Zoo. There will be treats available for purchase and other holiday activities. All visitors can enter a drawing for door prizes too – tis the season!
On-Site Activities
There's no need to leave the Castle grounds if you want to stay put during your trip! We have a board game library of 100+ tabletop games that you are welcome to play in a common area or back in your accommodation. Grab some homemade Beer & Cheddar soup from the Pub after you complete some on-site scavenger hunts or bring your favorite book and cozy up next to the fireplace in your room. Nothing beats looking out over a snow-covered Castle in the early morning hours either after Sunday morning cinnamon rolls. We will be happy to have you join us this season!
---